Essas dias eu estava refletindo sobre a inocência das crianças. Criança não tem vergonha de nada porque é livre. Criança não tem necessidade da aprovação alheia por vaidade. Ela quer sim que você goste dela, mas não vai fazer a hipócrita para que isso aconteça.
Me bateu inveja e saudades da minha infância, época que minha opinião bastava e que eu era muito mulher para me garantir nas minhas escolhas(como a combinação blusa de bolinha + calça listrada, que minha mãe tentava me fazer entender que era RIDÍCULA e eu não tava nem aí, eu gostava assim e ponto.)
O engraçado que refletindo sobre isso, percebi que a nossa evolução enquanto pessoas é um ciclo.
Na velhice voltamos à infância. Época em que perdemos novamente os pudores.
Perdemos um bom tempo de nossas vidas em agradar pessoas e quando finalmente temos coragem de nos entregar sem medo do ridículo não temos mais a vitalidade necessária para fazer tudo o que sempre sonhamos.
Sonhos não envelhecem, mas nós sim.
É sobre isso que fala o livro Antes de Partir ( título original The Top Five Regrets of the dying) lançado em 2011 pela enfermeira australiana Bronnie Ware.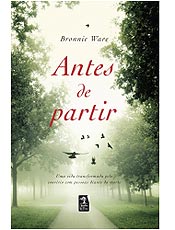 No livro, Ware relata os 5 maiores arrependimentos de pacientes terminais. A pergunta é: Será que você morreria arrependido por esses motivos?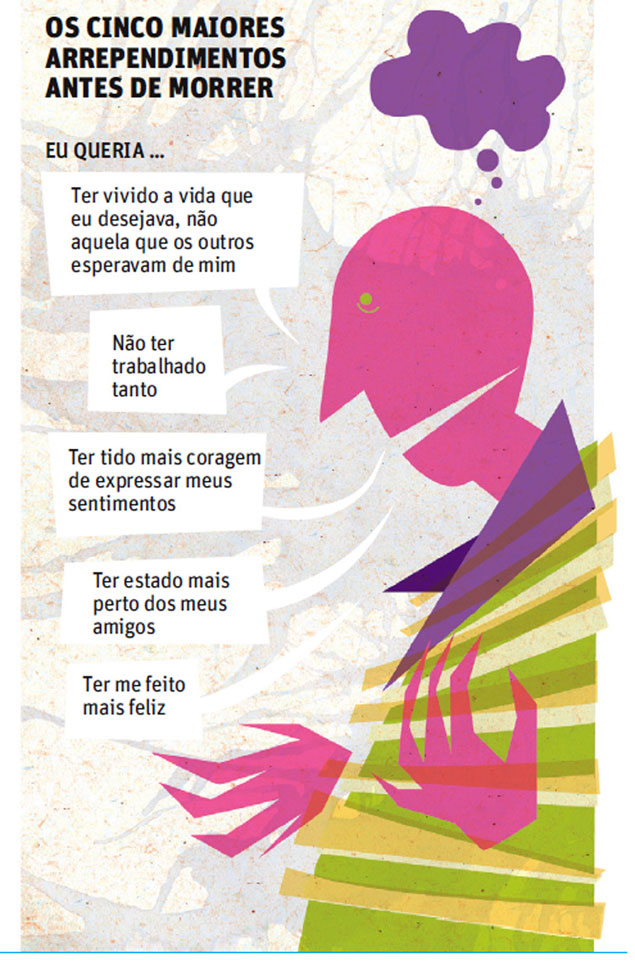 Me inspirei em fazer esse post através de um vídeo feito pelo Hospital Einstein, em que Ana Claúdia Arantes, geriatra especialista em cuidados paliativos comenta as possíveis causas desses arrependimentos no fim da vida.
Vale destacar algumas respostas:
"As pessoas geralmente fazem pelos outros coisas que ela acredita que é importante pro outro. Mas na maior parte das vezes o outro não te pediu isso. E aí querem um acerto de contas no final."
"
Quando você deixa de fazer alguma coisa que é importante pra você, pra fazer algo que é importante para uma outra pessoa, esse tempo não volta
.
"
"
Esse é uma das coisas mais bonitas que acontecem no fim da vida. A gente perder a nossa capacidade de fingir
."
"
Por mais terrível que seja a pessoa, no fim da vida ela começa a manifestar o que tem de bom por dentro. E esse bom por dentro é demostrar afeto.
"
"
Esses 5 arrependimentos eles são o grande paradigma de um ser humano. Essas escolhas que ele vai fazendo durante a vida que em algum momento ele vai ter que parar e olhar pra trás e ver se valeu a pena.
"
Espero que você se sinta inspirado assim como eu a viver a vida como mais despojamento. Afinal como diria Charles Chaplin:
"

A vida é uma peça de teatro que não permite ensaios. Por isso, cante, chore, dance, ria e viva intensamente, antes que a cortina se feche e a peça termine sem aplausos.

"
Beijos otimistas ;

***